YAY!!
I want to say again to him: Well Done!   Keep it Up!  Keep the fans and would-be fans and the social media and the general public alert!  Make them know you're still here!   As Sheba says in her Comment in the last thread, it was a good move to tweet his throwback video from the Idol days – John Lennon's IMAGINE.  That was the time when he was hailed as the contestant to beat and the sure winner.   Till today, this very same song sung by David represents his peak moment at AI.
CRUSH represents the essence of David;  IMAGINE represents everyone's hope for a new and hot Idol favourite.   (Whether he won or not seems to have no bearing on people's memories).   Phew, David is doing a great job in self-promoting!!   Bringing back those powerful, evocative memories!!  Good job, David!!   😀
He tweets!
"Today we remember John Lennon… one of the greatest songwriters of all time. I'll never forget singing his song "Imagine" on American Idol back in 2008."
We will never forget either, David!
(We are posting the full video.   Because …..!   😀   )
And the response is amazing!   Everyone is sitting up!!   Like this  –
"LMAO wow bae where have you been all this time!"
And David had alot of explanation to do!   😀
"I took a break to be a missionary for 2 years, released an album October, touring now and you should come to one of the shows! http://davidarchuleta.com/home/live/
And another –  (David is learning fast about self-promotion!)
"Well you can check out the new album I just released in October. 🙂 http://smarturl.it/wdqe7n  https://twitter.com/isaacmartel/status/939226313637773314 …
David is also happily opening up to possibilities and opportunities to collaborate with the most creative artistes in the world.   One of them is 'Sleepingatlast' – their work is utterly out-of-the-world fantastic.   David would do very well linking up with them.
I think it'd be rad to do something with you sometime!! Would love to if you're ever up to it. Even if it's just for the heck of it.
man, means so much!! thanks for checking out some of my songs! and count me in, would be totally lovely to do something together!!

And of course there are the magical Piano Guys who David will be joining for the Live concert!   David tweets:
I'm most looking forward to the new David-music video!!  Other than listening to him, the other enjoyment is watching him.   This pic sent by David looks more than promising.   I wonder which song it is!!   It has to be from his POSTCARDS FROM THE SKY  right??   SPOTLIGHT DOWN?   Only because I see a spotlight behind David.   Not a very intelligent guess, I know haha!  It's anyone's guess when it comes to David Archuleta   😀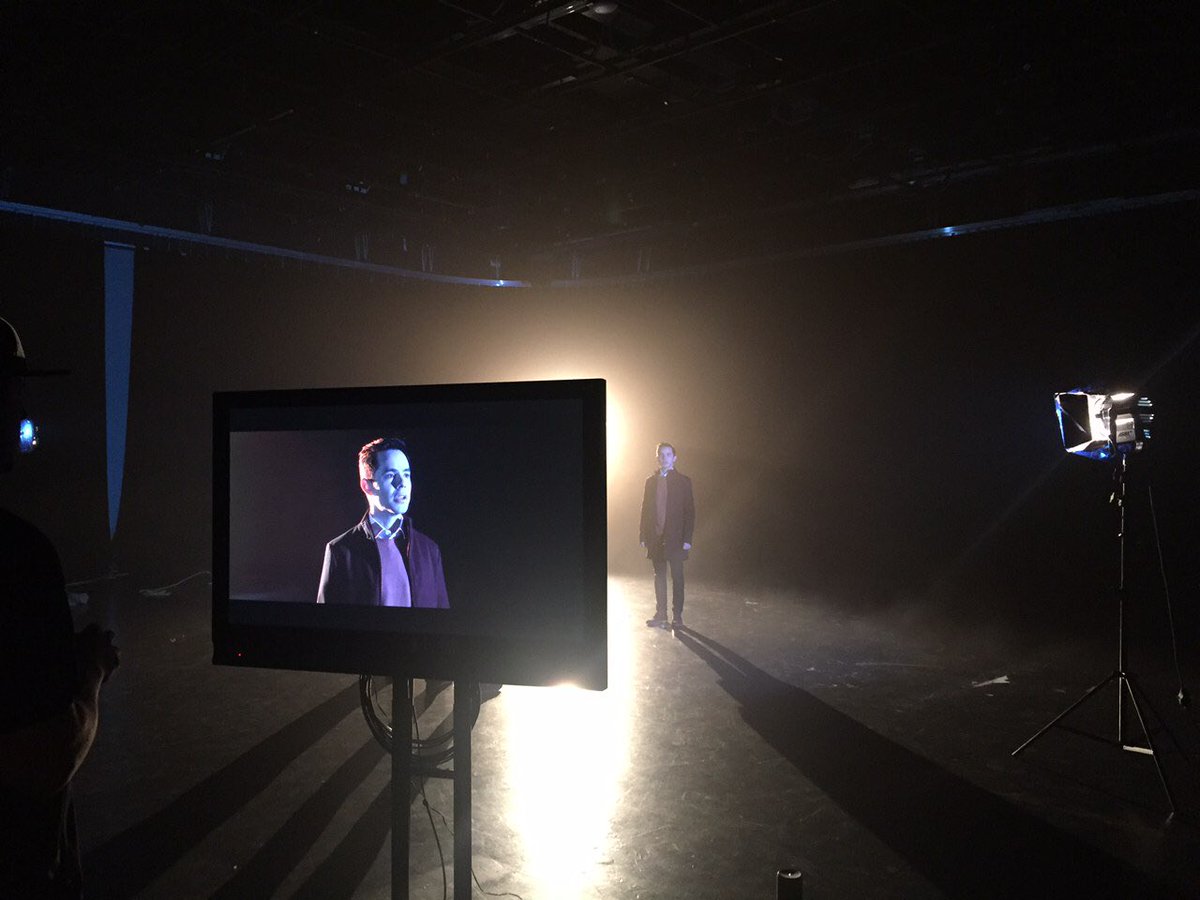 That's a wrap! Just finished filming a music video for you guys…

Can't give away too much yet. Stay tuned.