The past weekend when David was singing at Rexburg had been a great big blast for all the Archies of the world – the very many wonderful vids  …  pictures  …  tweeting parties  …  (Thank you so much to all those who posted!!)
I see only words like  …  "Wow!!"  …  "Just Wow!!"  …  "Best concert so far!"  …  " He rocks!"  … "His voice is pure and beautiful!"  …  "Lady Killer!"  just to quote a few.   And guess what?   All this fuss and buzz and he hasn't even come out with new music yet!!   And CRUSH (the most well-received song of those 2 nights) is about  … all of 7 years old??   😯
Let's have a brief run down of a few tweets and comments we saw:
His light shines!
This all was just the best medicine!
WOW is the word …from David's performance to the ARCHULOVE shown! Like old times!
What a party is right! So much energy by the crowd….and David was on FIRE! EPIC comes to mind!
the crowd was mostly his age things were lively fun
ha this one is good you can't even hear him singing cause they are singing along with him and rofl swamping him..
So much amazingness to see & hear!
I'm amazed at how David is sounding & looking better then ever!
Lots of good times & happiness on that stage.
You know this "David archuleta" guy…He is Good
David archuleta is & forever will be my dude
Guys I'm happy to say that David and I will be getting married next month
#ByuIdo #ringbyspring
The title of this blog is "David RE-discovered".   What exactly do we mean?
David was definitely very different in Rexburg.   He seemed to be empowered with a new Joy.   Just look at that smile!   🙂
We here at AAM love to speculate and analyse way beyond measure.  Perhaps he is happily in love!?   Or that he is relieved that his new album is nearing completion!?   😀
So what has happened to all the gloom and doom he suffered after his return from his Mission, which he now and again (ever so agitatedly  –  bless his confused soul) revealed to his shell-shocked Archies?    
Dissipatated!  we'd say.   Whatever darkness or murkiness he suffered since he came back from his Mission seemed to be  …  POOF!  Gone!  Woohoo!   Thank the Lord, as he would have us say.   And we gladly say it.   😀
As I was saying, this is a Rediscovered David.   The vids showed that Rexburg was a Celebration  –  yes, a celebration of a much happier David  –  he was natural, he was under no pressure.   He worked his fans until they became happy mush enjoying his "really coming back" party.   Even more so, he enjoyed himself.
The audience was made up of a much younger group of Archies and they wanted fun and someone who could rock them.   And David was ready for that!   What fun it was watching and listening to them!!   😀
I'm surprised  (there was a time when I thought he was a bit of a Goner  …   I know, so little faith  …  no, it was more of worry and fear   😛   )  …  I'm delighted  …  I'm so happy!   😀   Just look at his face.   The Light is BACK!!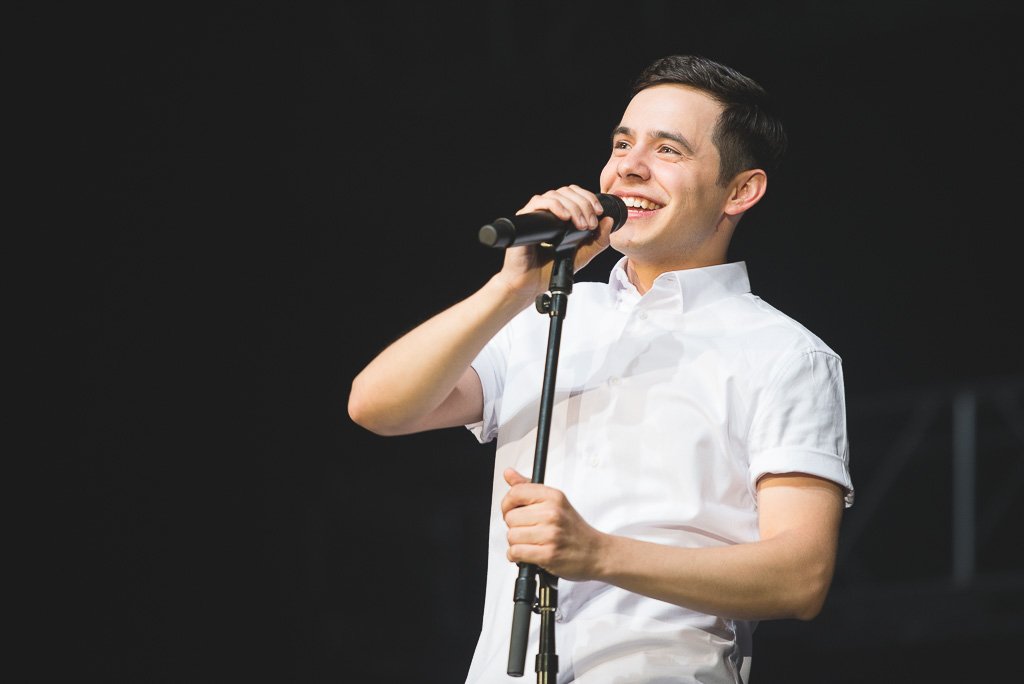 ALL WE NEED NOW
TO COMPLETE THE DAVID ARCHULETA PICTURE
IS  SOME NEW MUSIC 
😀   😀   😀
-tracewillow-