My aunt related to me a story about what people in her little old home town used to do when they needed to reserve seats way in advance for the shows they wanted to watch.
They would hop into the theatre early and tie a handkerchief onto the arms or backs of the chairs they were reserving.
Not quite like this but you get the picture   😉
When they arrived for the show, the kerchiefs were still intact, and they happily took their reserved seats to enjoy the evening.
I was just wondering if that practice would work within the Archies' circles, considering their existing goodwill and warmth with each other.   😉   (totally said in jest, not in sarcasm  ..  ok, maybe said with a little envy since most of us are living halfway round the globe and are not able to attend David's concerts in March   😦   )
Or would it be a mad clamour for tickets and reservations now that we hear news about the great responses to the concerts.
First there was this Sold-Out news from Sevier Valley Centre –
Wednesday March 23, 2016
Then another Sold-Out Show on March 26 with a "Second Show Added on March 25 By Overwhelming Demand"!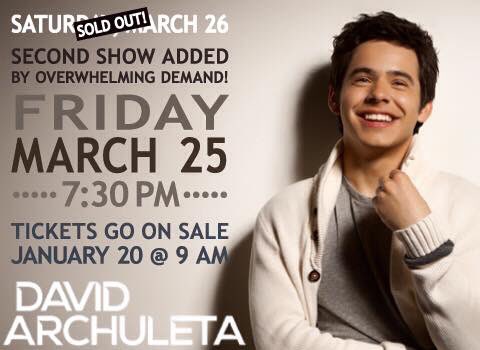 And it's only January!!
Will there be the initiation of NUMB at last?
Will there be 1-2 more new songs?
Or perhaps some new covers?   (David is a genius with covers, or haven't you noticed?   🙂   )
What I am certain is the collective power of heart-to-heart soul beating to rhythm on those nights will undoubtedly be shattering!