Christmas Present No.1 – the many many many gorgeous pictures!
Christmas Present No.2 – Be-Nice-To-Gorillas-Even-Though-They-Are-Fake pic!
(David does seem to like his gorillas!   🙂   )
(We like them too but we prefer David!   😀   )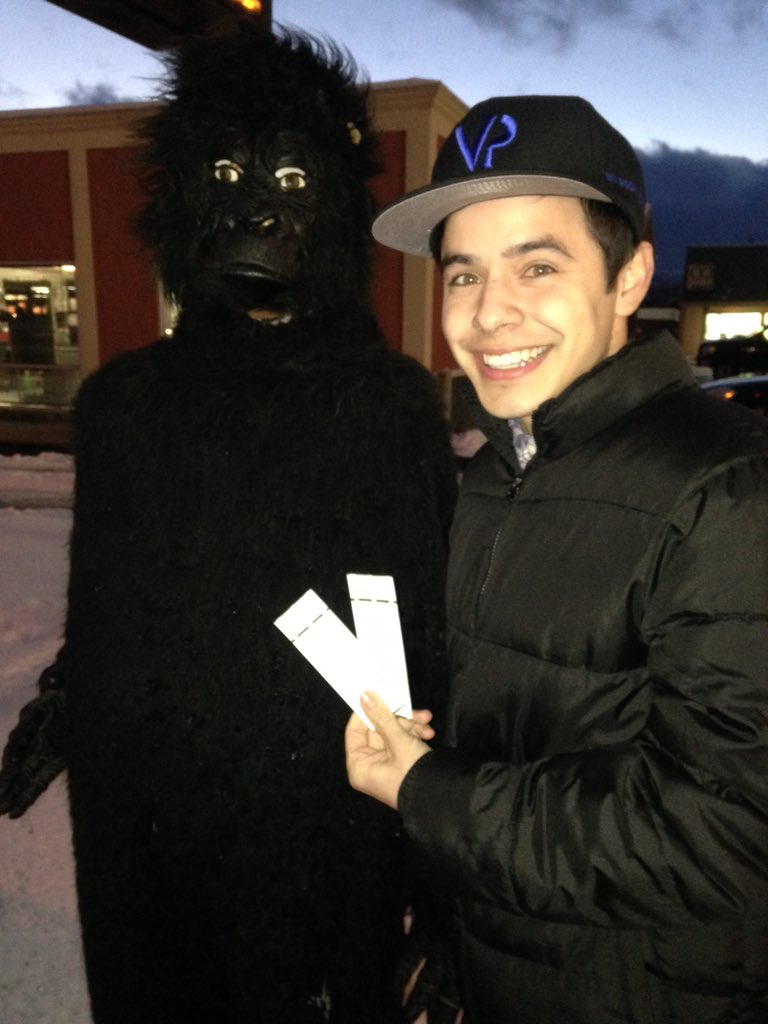 Christmas Present No.3  – the overwhelming success of The Prayer, giving us just as overwhelming joy!   The producer of The Prayer vid has taken to IG with this message:
Today, the video of #ThePrayer crosses a total of 10 million views (!!) after 5 days since it was released.It s the first song, for me as a producer, reaching this type of numbers. I am thankfully speechless.
We are speechless too!   And Youtube has almost a million views within the short time!
Oh, by the way that was Christmas Present No.4.
Christmas Present No.5 – David sends a Thank You message to the Pledgers for The Prayer:
(With thanks to FOD)
"Hey Pledgers, It's David Archuleta here, and I wanted to thank all of you for pledging and being the first ones to support this song, "The Prayer" along with the package of the  acoustic version of Riu Riu Chiu and the background for the fans to use for your technological devices.
 It's been a really big surprise, pleasant surprise for us to see the response for this song, The Prayer and the video, and to see all of you sharing it with your family and  your friends and seeing the way it's touched everyone… has been a real gift to us..and while it's not an official Christmas song, I do feel it is..it can be an official song for the spirit of Christmas as we reflect on the Savior's birth ..and just giving out…and hoping and wishing and praying for a better world…a better time… a better version of ourselves as well. I feel like a prayer is always that connection that we can have to have access to all of that.
So, Merry Christmas to all of you, and God bless you all, and thanks again, and here's to more to come for the new year.
Christmas Present No.6 – the promise of "more to come for the new year"!!!!!!!!!!!!!!!
Christmas Present No.7 – Full Screen – David's another step towards another music experience!
So excited to welcome @DavidArchie to the #FullscreenFam!

Get lost in his tunes: http://full.sc/1QqYe75 .
Christmas Present No.8 – Pocatello!!
Stephens Centre in Pocatello, Ohio, is so beautiful and David drew them in, filling the theatre to the seams, that there is a need now to re-appraise David's celebrity and musical status at a different level.   That gives me goosebumps just thinking about it.
And here's part of our Christmas Present No. 8 – David wishing us Merry Christmas from Pocatello!
And a lovely pic of David with his band and team.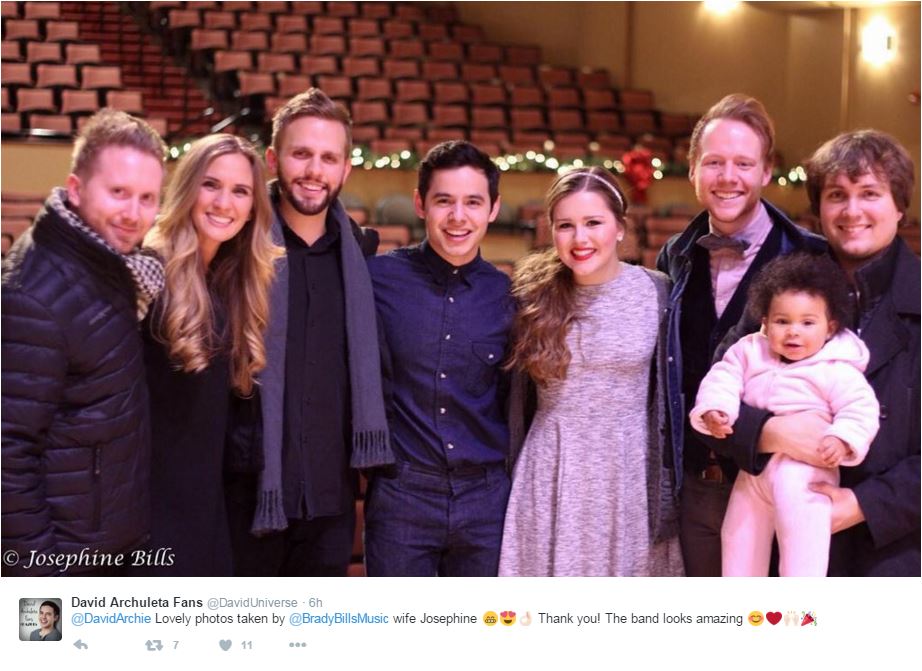 I had always wanted David to sing songs like The Prayer – half operatic, half pop – his talent was given to sing songs of that genre.   I hope he has found the direction he wants to pursue  –  that's our Christmas Present No.9!!
For David, that discovery is a Christmas Present from Heaven, although I may be saying it tongue-in-cheek.    Afterall, who the heck am I to know, right?  BUT I KNOW!!   😀
How's that for contradiction?   The truth is I'm dizzy with joy that I'm being showered with so many Christmas Presents from David this year!
And these are our Christmas presents for you, David!
(You guys think they're enough?   🙂   )
MERRY CHRISTMAS, EVERYONE!!
PS  Ooh … there's a Christmas Present No.10!   We can now buy The Prayer from Amazon!   (I am delighted since I use them!)   Is there no end to receiving presents??   Good things in Archudom are pouring in!!
https://www.amazon.com/gp/product/B019ATD634?ie=UTF8&keywords=david%20archuleta%20the%20prayer&qid=1450138995&ref_=sr_1_3&sr=8-3